Posted by
Nov 17, 2012
in
Issues
|
20 comments
on
Maya is a little girl of 6 years, daughter or Tibi and Ramona, living in Ashdod, Israel.
Maya is the first member of her family to be born in Israel. She has spent all of her life in Ashdod, a city famous for the large new immigrant population and the frequent rocket fire it has endured from Gaza. Maya is in first grade. In addition to learning to read and write and do maths, Maya is also learning how to take shelter under her school desk, and how to stay safe when the rockets shower her city. She might very well be one of those children who have already learnt to sleep through the air raid sirens in the night–or they wouldn't get much sleep at all.
I have lost count of the number of rockets fired at Ashdod in the past 4 days. Yesterday afternoon the count was over 500 for the all of Israel, including ones fired at the supposedly Muslim holy city of Jerusalem.
Maya has a message.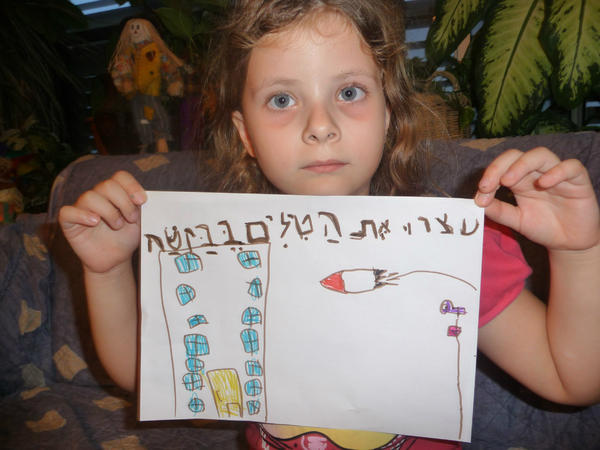 Her mum captioned this photo this way: "My daughter's Maya message: "Please, stop the rockets!" Help her spread it."
ETA: As I was typing this post up, there was an alarm in Ashdod, and from the sound of it, Maya's mum thinks it might have been a direct hit in the town.
ETA II.: Ynetnews confirms the hit within the city.
ETA III.:  Ramona:  on channel 2 they said one fell on a building and one on a truck. The Jerusalem Post also reports three injuries as three rockets hit Ashdod.